An innovative textbook that explores the `why' behind global financial stability, providing insightful discussions on the international financial system and the contemporary issues of today. Updated for 2023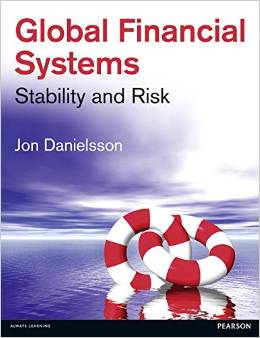 Details
Paperback: 426 pages
Publisher: Pearson Education 2013
Language: English
ISBN-10: 0273774662
ISBN-13: 978-0273774662
This book is suitable for both undergraduate and masters students, and the book has been used successfully in a masters course at the London School of Economics, FM 447, Global Financial Systems.
The book uses economic theory, finance, mathematical modelling, risk theory, and policy to posit a  comprehensive, coherent and current economic analysis of the inherent instabilities of the financial system, and the design of optimal policy response.
The book contains an up-to-date and thorough analysis of the 2007/08 financial crisis, the subsequent changes in financial regulations and government policy. It concludes with analysis of the ongoing European sovereign debt crisis.
Key questions:
Under what circumstances have we achieved financial stability?
Which previous crises inform the current ones and in what way?
What are the common themes and lessons for policy, regulation and financial theory?
Financial regulations --- macro prudential policy
Financial markets and instruments
Politics, China, Europe, US, Brexit, Italy, Trump
Foreign exchange
Fintech, blockchain, cryptocurrencies, smart contacts
Liquidity
Sovereign debt (crises)
Interest rate normalization
Inequality
Reviews
Nicely and clearly written for an undergraduate audience…the book has a fresh perspective that will differentiate it from pre-crisis texts



Professor Goodhart, Professor Emeritus, London School of Economics
Global Financial Systems: Stability and Risk, looks to be an important book… it will appeal to those interested in regulation as well as those more on the regulatory side.



Professor Caprio, William Brough Professor of Economics at Williams College and Chair, Center for Development Economics